In recent years, there's been more and more conversation about the changes we can make to help save our planet. These changes are important in order to care for what we have and what the planet has been offering us. With that in mind, I thought, it would be good to look at ways that we can improve organisation and reduce the consumable products we use in our bathrooms. Having an organised bathroom is something that is important to me as I believe organisation is a base to a happy life.
Whether getting ready for the day ahead or taking a nice relaxing bath in the evening, spending time in a place that surrounds us with products that are sustainable and reduce the amount of waste can have a positive impact on our mental wellbeing. In this post, I explore different ways to reduce the amount of consumable items in the bathroom. I hope you'll find this helpful. I would love to hear what you think of these suggestions.
*I do not receive any commission from the products mentioned. Products in this post are representation of items available on the market.
8 Ways to Reduce Consumable Items in the Bathroom
1. Disposable Plastic Razors: Reusable Stainless-Steel Razor / Wax / Epilator / Laser
Disposable plastic razor, similarly to plastic ear buds and toothbrushes, can take years to decompose. Billions of disposable razors are sent to landfill each year. Not to worry. If you are looking for a sustainable replacement that will last longer, there is more than 1 alternative available.
If you don't want to give up razors, a reusable stainless-steel razor is the perfect alternative and replacement to the plastic single-use razors. Steel razors are available as full metal or you can get them with a bamboo handle, which is a great sustainable alternative to plastic. They use one single blade made from stainless steel. Thus, the blades are easily recyclable.
Photo by bambaw.com

Photo by bambaw.com
If you are still not convinced and prefer the feel of a plastic razor, Recycled Plastic Eco-Friendly Razor by Preserve is a great option.
The second option to cut down on plastic razors is to invest in an epilator. An epilator is an electrical device used to remove hair by mechanically grasping multiple hairs simultaneously and pulling them out. They come in corded, rechargeable and battery-operated designs. The battery-operated devices can be used wet or dry. Once you have removed the hair with an epilator it can take up to 4 weeks for the hair to grow back.
A third option is waxing. One of the best benefits of waxing is that the skin will feel smooth and even. When waxing, you not only remove unwanted hair, the wax also removes any dry and dead skin cells in the process; no potential for cuts.
Hair removal with both epilator and waxing can last up to 4 weeks, but epilation can be more convenient because you don't need to wait for your hair to re-grow. If you wax, you have to wait for the hair to grow out long enough, which may not be very convenient in the summer months.
The fourth and last alternative to shaving with a plastic razor is laser hair removal. During laser hair removal, a laser emits a light that is absorbed by the pigment in the hair. The light is converted to heat, which damages the sacs within the skin that produce hairs. This damage inhibits or delays future hair growth. This can be done in a professional salon or at home. No shaving or waxing is necessary once you get regular laser top ups. This method can also be more expensive than the other options, however it last longer and top ups are required less regularly the more it is done.
2. Face Wipes: Fabric Face Cloth / Muslin Cloths
Most baby and makeup wipes can take up to 100 years to break down in landfill. They also come in plastic packaging which again is mostly non-biodegradable.
The purpose of the wipes is to provide a quick and easy alternative to regular facial cleansing routine on the go. Facial wipes can be a time saver and are extremely convenient. However, as I mentioned in my post Top Tips for Simple and Effective Skincare, they don't perform as well as a cleanser and water do. They are also single use and therefore produce a considerable amount of waste.
A great alternative to face wipes is to use of a fabric face cloth. They might not be as convenient as face wipes as they require water, however you can use them over and over again by having them regularly washed. They are also a great way to exfoliate the skin while cleansing. While each face wipe is disposed of after single use, a fabric face cloth can last for many years.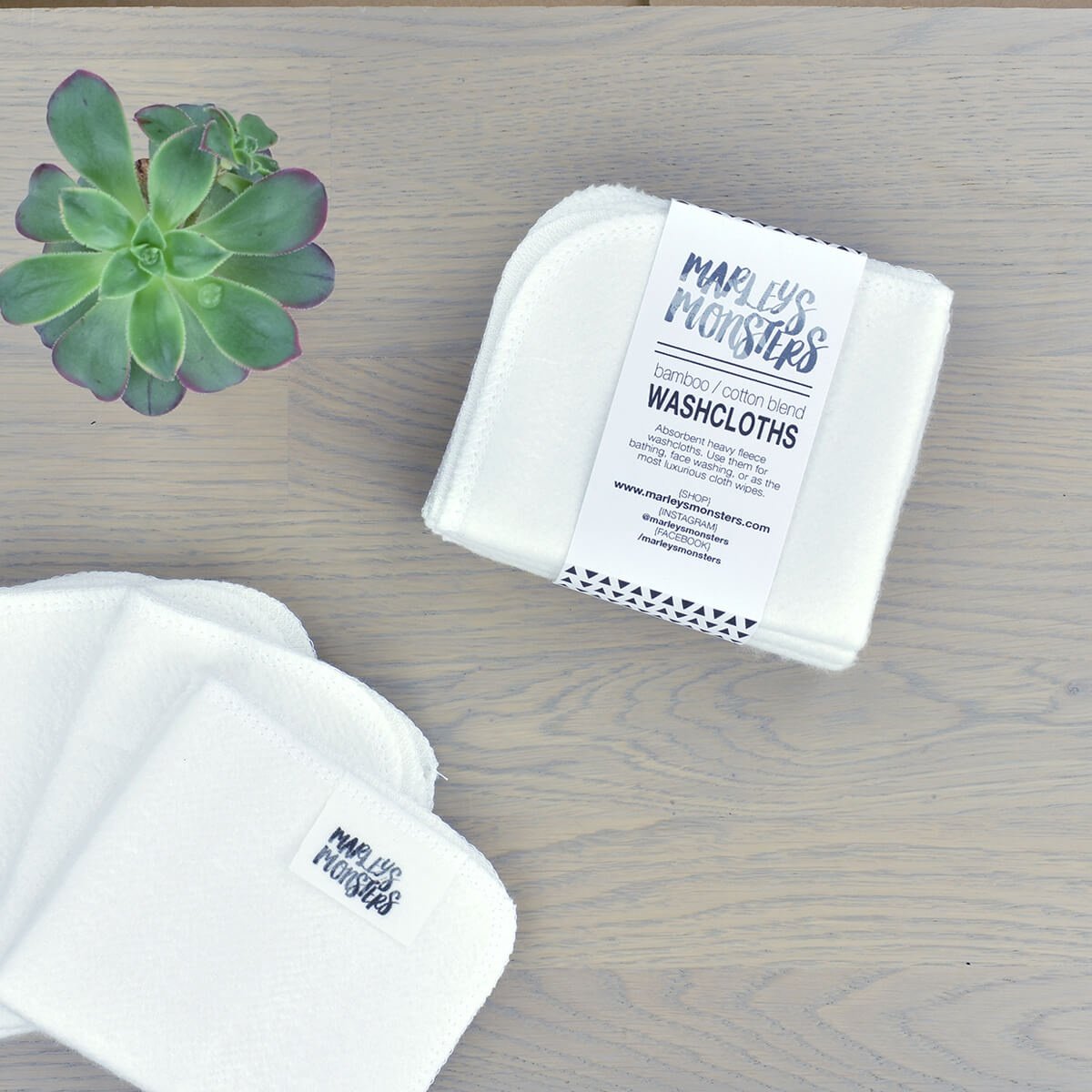 Muslin clothes are also a great alternative to face wipes. They are biodegradable and also help in skin exfoliation when used with cleansing products.
3. Single Use Cotton Pads: Reusable Make-up Pads
According to the WWF, the amount of water needed to produce one kilogram of cotton is equivalent to the amount of water one person would drink over 3 years. Bearing that in mind, imagine the amount of water that goes into production of a single-use cotton pad.
Cotton requires not only massive amount of water but also fertilisers and pesticides. Therefore, in order to be more sustainable, we should focus on purchasing products that can be used over and over again. Over the last number of years, so many new products have been redesigned and introduced to the beauty industry. There is a greatly reduced effect of cotton waste because of this. By removing single use cotton pads from everyday skincare routine, you are also reducing the amount of plastic used in packaging of the cotton pads.
This is where reusable makeup pads come in. There are number of alternatives available on the market. These include reusable bamboo cotton pads, microfiber cotton pads or cotton flannel pads.
Photo by bambaw.com

Photo by peacewiththewild.co.uk
Cotton Flannel by Marley's Monsters
If you enjoy painting your nails and you use disposable cotton pads to remove your nail varnish, reusable pads can also do that for you. Bamboo nail polish remover pads are much more eco-friendly and are a perfect sustainable alternative to single use cotton pads for nail varnish removal.
4. Excess Skincare Products: Only Use Skincare Products that Work for Your Skin
To reduce product consumption and the amount of skincare products used, knowing what your skin needs and using products that work for your skin is the key. If you are looking to learn more about simplifying skincare and products, check out my post on Simple and Effective Skincare.
5. Single Use Menstrual Products: Menstrual Cup & Reusable Pads
Each year, an estimated 20 billion pads and tampons are discarded in North America. They typically end up in landfills or are incinerated, which can have a great impact on the environment. Most of the pads and tampons are made of cotton and plastic. Plastic takes about 50 or more years whereas cotton starts degrading after 90 days if it's composted.
An alternative to tampons is a menstrual cup. Given that the menstrual cup is reusable, its use greatly decreases the amount of waste generated from menstrual cycles, as there is no daily waste and the amount of discarded packaging decreases as well.
The second type of product that is more eco-friendly and will reduce single use menstrual products is a reusable pad. Made from natural bamboo and microfiber, it can last at least 5 years.
Reasons to consider when switching to reusable menstrual products:
Less waste
Cost effective
Longer protection
No harmful chemicals
Body friendly
6. Excess Body Care Products: Only Buy Replenishments When Needed
If you're looking to reduce the number of consumables in your bathroom the first step to help with it is to stop buying replenishments unless needed. If you continue to buy products as "backup" you will always have more than you need. Believe me – I've been there. You see something on sale and you tell yourself that you'll get to use it eventually. That is true, however if you are looking to reduce the number of products you have in your bathroom, you don't need a product that will sit on the shelf with 10 other items for 2 months.
7. Use Up or Dispose of Sample Products
Do you enjoy getting samples of various products or take remaining hotel bath and shampoo bottles home with you? There is nothing wrong with free stuff, however if you continue to accumulate products that you cannot consume, eventually there is going to be a pile of them. In order to minimise that, you can either only take products that you know you'll definitely use or either, use up the ones you already own or give them away to friends and family. That way you won't feel guilty throwing them out, but also they won't be taking up space in your bathroom.
8. Use Glass Dispenser Bottles for Hair, Body and Hand Wash Products with Refillable Option
Glass bottles can be used over and over again and they are generally more aesthetically pleasing compared to plastic bottles used over a long period of time. Many brands have an option of refills and if they don't offer a glass bottle alternative you can always purchase a nice glass bottle of your liking from a different brand.
Photo by Molton Brown

Photo by Molton Brown
Final Thoughts
There you have it, my top tips on how to reduce the number of consumable products and be more sustainable in the bathroom. I'm always happy to discover new products.I feel a lot more people are environmentally conscious these days and are willing to make a change.
I hope you found this list helpful. If there are any products you feel should be on the list please let me know. I always enjoy finding out about new products.
Yours,
Rose