Whether you live in a house or an apartment, the following suggestions are some ideas to help you utilise your space to its full potential. Sometimes, we don't realise how much stuff we have and the more items we get, the more storage space we need. The furniture ideas are practical, and yet they will definitely help to keep your living space clean and tidy.
Living Room
Sofa with Chaise Longue and Secret Storage
This is a great option if you're looking for a comfy couch that can accommodate more guests and also provide additional storage space. I personally feel these types of sofas are great for apartments (or any home) as they provide that extra bit of storage without being obvious. Apart from additional storage space for guest bedding, this storage space can be used to store winter clothes, towels, holiday decorations, etc. which you may not be used on a day to day basis but you would like to access easily.
---
2. Sofa-bed
Similar to the sofas with chaise longue, sofa-beds are a great way of using the furniture to provide another purpose. Sofa-beds are great if you are looking to provide a place for guests to sleep but you don't have a spare bed. They also often have built-in storage which is great if you're trying to find a place to fit an additional duvet set or are looking for additional space to put some items away.
Photo by jysk.ie – Sofa bed chaiselongue VEJLBY dark grey
3. Footstool with Storage
This is another perfect example of combining furniture with practicality. If you are a fan of footstools, most furniture providers offer an option that combines storage within a footstool. This adds storage to a piece of furniture that otherwise would have only had one function. This is great for magazines or board games.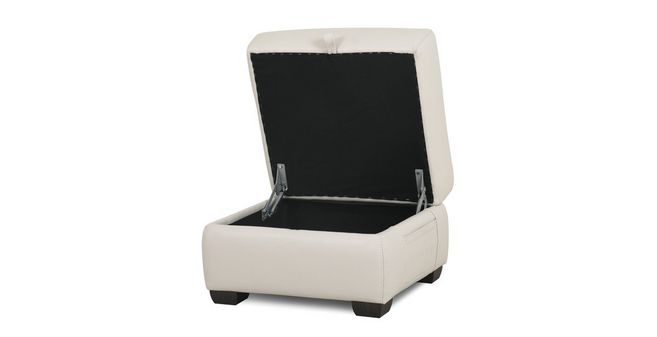 4. TV Bracket
This item may not be specific to organisation and storage but I thought it would be worth mentioning. If you decide to use a TV bracket it is a great way of keeping the area where the TV would normally stand free to be used by other items. Usually, the wall where the TV is positioned is left empty. Why not utilise it that way?
5. TV Bench with Storage
A good TV bench with plenty of storage is always a huge plus. These can be the perfect homes for your Sky box, DVDs, remotes, etc. When used well, they have the added benefit of hiding all those cables.
6. Coffee Table
If your living room allows it, a good-sized coffee table with storage underneath can be a great addition for keeping magazines, papers and books organised.
Bedroom
Bed with Underneath Storage
Beds with legs that are structured above the ground are perfect for additional storage space. All the empty space under the bed can be filled with boxes, suitcases, shoes or any other items you like. A further option to make use of this space is to get boxes that can slide in and out from beneath the bed space, and these can keep your items neat and tidy, even when out of sight.
2. Bedframe with build in underneath storage
If you don't like the idea of putting individual items underneath the bed and would like a way to keep your storage space structured, I would suggest looking at beds with built-in underneath storage. These can work two ways. One way is by lifting the mattress up to expose the storage area built into the frame of the bed underneath. The second way is with side drawers. Both ways are very convenient, although I find the beds with storage accessible by lifting the mattress have more space and make it easier to find items.  
---
3. Tall Fitted Wardrobe with Sliding Doors
Sliding door wardrobes are a great solution if you're a bit tight for space and feel there might not be enough room for a regular hinged door. Sometimes hinged doors can clash with walls or other furniture. Additionally, if the wardrobe is fitted to the top of the celling, although the top shelves might not be easily accessible, these are great for items needed less frequently.
For example; Christmas decorations.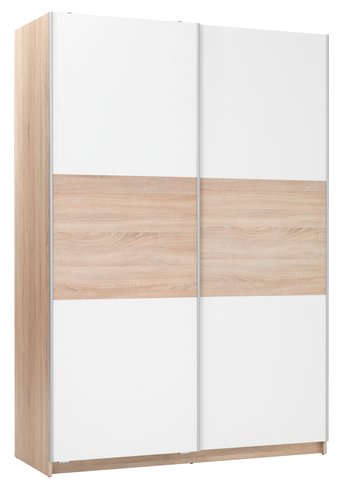 4. Corner Wardrobe
Similar to sliding door wardrobe, a corner wardrobe could a good solution for bedrooms that might be of an unusual room shape. With a corner wardrobe you don't have to focus on one wall, you can split the sides into left and right wall to shorten the length of the wardrobe without effecting it's storage capacity.
5. Wall Mirror with Hidden Storage
If you are a jewelry lover and like the idea of keeping your pieces displayed in a way that keeps them from becoming tangled, you might like the idea of a full size mirror which opens up to expose hidden shelves or hooks.
Hallway
Hallways are ideal places for storage (seasonal pieces in particular), however often there isn't enough space to accommodate all the items. If you have some free space available in your corridor and would like to utilise it for storage purposes, below are few ideas how you can do that.
Shoe Cabinet
2. Bench
3. Hallway Wardrobe
Are you searching for a wardrobe to fit a narrow hallway? A wardrobe with a narrow depth and sliding door will work nicely.
Dining Room
Extendable Dining Table
If you're looking  for a table that can fit more than 4 people but don't have room for it in your everyday life, the extendable dining table might be an option for you.
2. Sideboard Unit/ Cabinet
Depending on the amount of space you have available in the dining room, a sideboard unit/cabinet could be a nice alternative for keeping your elegant glasses, drinks and cutlery away from the everyday kitchen wear. Additionally, depending on the type of cabinet you choose you can turn it into a bar cabinet.
Home Office
Desk with Add-on Unit
A great way to utilise space over the desk, especially if you're not interested in drilling holes in your wall.
2. Mount Wall desk
A mount wall desk is a solution for places that don't have the space to store a regular desk. The table can accommodate almost any space and can be folded up against the wall when not in use.
3. Wall Mounted Corner Shelves
Placing a standing shelving unit in a room that is small may create obstruction and clutter. A solution to this problem is using a wall mounted corner shelves. This way the room will remain clutter free and will have additional storage space on the wall.
Bathroom
High Cabinet
A high cabinet is a perfect solution for bathrooms that have an empty wall that can facilitate an extra piece of furniture for storage. Cabinets can come in different shapes and forms, from tall and narrow to corner fitted or short. Several will even incorporate a mirror door. It all depends on your preference and how much room is available.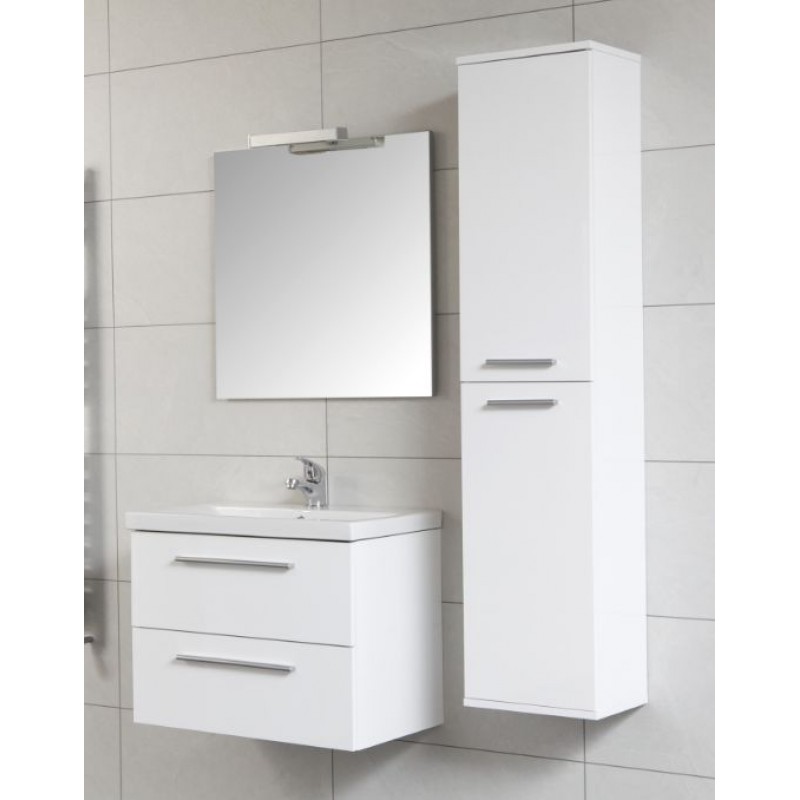 2. Mirror Cabinet
Every bathroom will have a mirror, it is pretty much an essential piece of furniture. For small bathrooms, using a mirror cabinet is a great solution to add additional storage without creating more clutter. Additionally, to extra space, the primary function of the mirror remains the same.
3. Wash-stand with Drawers
Similar to the mirror cabinet, a wash-stand with drawer is another piece of furniture that helps create more storage without altering the primary function of the furniture, in this case; a sink.
For more ideas on how to organise your bathroom check out my post 11 Clever Bathroom Storage Ideas.
Final Thoughts
These are only a handful of the practical ideas I came across and wanted to share with you. I love the idea of utilising all the available space to its full potential in order to keep each room clutter free.
I would love to know if you found this post interesting. If you have any suggestions for furniture pieces that should be part of this list, I would love to read about them in the comment section below!
Yours,
Rose